Talking to children about racism can be a tricky topic to navigate – but this should not put you off talking to your children about it. We all need a helping hand sometimes, which is why we have collected a list of children's books about racism that might help you start valuable conversations about race. This is an important topic for children and racism should never be ignored.
A is for Activist
A perfect addition to any toddler's bookshelf, A is for Activist is an alphabet book that aims to teach readers about ways they can take action, question and stand up for any injustices within their community. This book is perfect for any parent or guardian who is looking to inspire change within the younger generation.
Let's Talk About Race
Let's Talk About Race likes to get right to the point. This book emphasises that there is more to a person than just their race. Although it is important that children are aware of differences, it is also important for children to realise that people have similarities too.
Lester says that "I am a story, so are you. So is everyone." And this is the key message he shares throughout his whole book.
The Other Side
From the perspective of a young girl, The Other Side explores the life of Clover living in a segregated town. She forms a friendship with her white neighbour, Annie, and become friends despite the divided world around them. This book is a brilliant way to introduce the concept and negative impact of racism to your child. By opening the conversation that people are different, but it shouldn't affect how we treat and respect them.
A Kids Book About Racism
With clear and concise explanations of what racism is, this book will not only teach your children, but open your eyes too. This book will allow parents to start the all-important conversations surrounding race and racism, while inviting their children to ask their own questions.
Child of the Civil Rights Movement
Paula Young Shelton is the daughter of activist Andrew Young, who famously organised along side Martin Luther King Jr. This book tells the story of the beginning of the civil rights movement from the perspective of the author as a child, as she participated in the march from Selma to Montgomery when she was only four years of age. This book is incredibly influential, especially when explaining to children that they are never too young to make a difference and to stand up for what is right.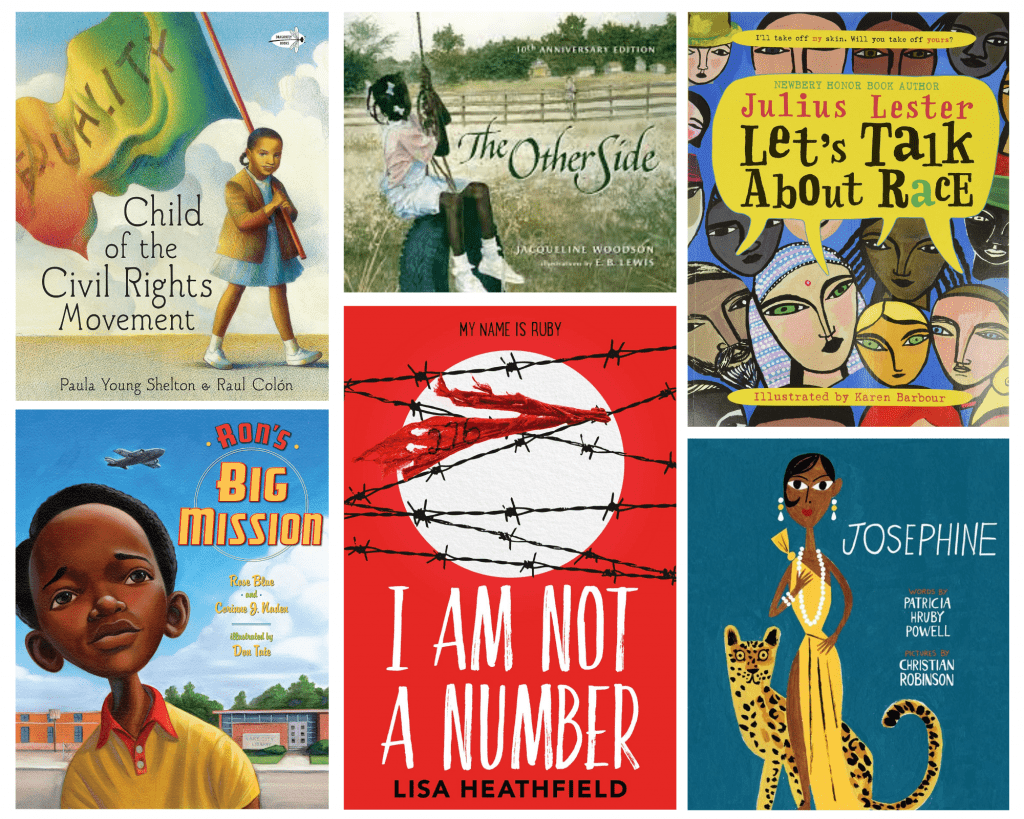 Ron's Big Mission
Similarly to Child of the Civil Rights Movement, Rose Blue and Corinne J. Naden created this book to encourage children to make changes to the world around them. Ron's Big Mission is a picture book all about Ron McNair, who was an American astronaut. When Ron was younger, however, he famously refused to leave his local library until he was issued a library card.
This book is a brilliant read to demonstrate resilience, bravery, and determination, but along with this, it highlighted how little black children are represented in literature and in children's picture books. Ron's Big Mission was a breakthrough on initial release and should still be being read to children today.
I Am Not a Number
I Am Not a Number is a book is for slightly older children (we suggest between 7 and 11) and was written by Jenny Kay Dupuis and Kathy Kacer. Like many books on this list, this book was based on a true story; the story of Dupis' grandmother when she was an 8-year-old girl.
In her childhood, she was taken away from her family and placed in a residential school, where she was forced to use a number instead of her name. The book explores the abuse she experienced and the treatment she received while at the residential school. However, she never forgot about her family and her culture, and understood the importance of remembering about your heritage, even if others do not.
Josephine: The Dazzling Life of Josephine Baker
Despite being well known for her dancing career, Josephine Baker was also an extremely determined civil rights activist. This award-winning picture book by Patricia Hruby Powell and Christian Robinson tells her story through compelling illustrations, words and brings Bakers story to life.
The Stone Thrower
The Stone Thrower is a children's version of a book by Jael Ealey Richardson, about her father, Chuck Ealey. This book explores Chuck's life and his experience growing up as a black child in a racially segregated community.
Chuck fell in love with football, and despite facing challenges with poverty and racism, he became a record-holding sportsman. Despite his skill and determination, due to his race, he was never picked to play for the NFL (National Football League). However, he overcame this once again and was chosen to play for the Canadian Football League, and even led his team in his first year with them.
These books are a great starting point to get these important conversations started. These stories about racism should help you to not only educate your children, but to broaden your own understanding. We all need to play our part, and a great starting point is to educate ourselves and our children, to make a better future for everyone.
Find out more about fostering with our top picks for foster care books here.
At Compass we are dedicated to having an anti-racist organisation. You can read about our G.R.A.C.E group and their anti-racist strategy here.