Foster Care Definition: What Does Foster Care Mean?
There are currently over 70,000 children living in foster care in the UK.
Many people search for a fostering definition when it comes to understanding foster care. The Oxford Dictionary and other dictionary sites define fostering as 'temporary custody or guardianship for children whose parents (…) are unable to look after them.'
There are many reasons why a child or young person may not be able to live with their birth family, including neglect, abuse, parental illness, police involvement or family breakdown.
This is where our brilliant foster carers step in. Our foster families provide our children and young people with an environment within which they can thrive. For us at Compass, this is the true meaning of fostering; to provide vulnerable children and young people with the love, care and support they need to improve their outcomes and succeed.
Some fostering arrangements are only for a temporary period of time, while the issues that placed the child into foster care are resolved. However, children and young people may also stay living with their foster family for many years. It all depends on their individual needs and circumstances.
The Role of a Foster Carer
Fostering can be an incredibly fulfilling career. As a foster carer, you have the opportunity to make a real difference to the life of a child of young person.
We like to say that the role of a foster carer is to wear many hats. Alongside the day-to-day care of children and young people, foster carers also have some other key responsibilities, such as:
Acting as a role model
Teaching them everyday tools and skills, such as cooking
Making sure they regularly attend school and are supported in their learning
Providing them with new experiences, like holidays and activities
Supporting their physical and mental wellbeing
Keeping track of their progress and achievements in records
Encouraging safe, positive contact with their birth family where appropriate
Attending regular training to expand knowledge and fine-tune skills
These are just a few of the many different ways foster carers can have an impact on their child or young person's life. As a foster carer, you'll benefit from being able to witness first-hand the impact of the work you're doing.
Your reward will come from seeing young people develop healthy relationships, build trust, develop their self-esteem, learn new skills and, most importantly, experience the childhood they deserve.
Different Types of Fostering
When trying to define foster care, it's important to remember that there are many different types of foster care that our carers provide, depending on each young person's needs. Every child's background and upbringing will be unique to them and often children will display different behaviours depending upon their own experiences.
We know that each of children and young people are unique, which is why we strive to provide them with bespoke care that meets each of their individual needs and requirements.
That's why we offer a range of different types of fostering, including short-term fostering, long-term fostering, emergency fostering, parent and child fostering and respite fostering.
You can find out more about the different types of fostering here.
What's the Difference Between Fostering and Adoption?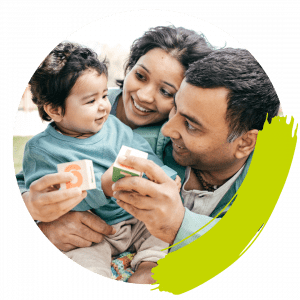 Fostering is often confused with adoption, due to the areas of overlap between the two. However, there are also a number of differences between fostering and adoption that set them apart.
The key differences between the two is a legal one. Put simply, an adoption order ends the child's legal relationship with their birth family. Meanwhile, children in foster care living in a foster home remain the legal responsibility of their Local Authority and their birth parents.
Read more about the differences between fostering and adoption here.
Is Fostering Right for Me?
Hear about fostering experiences from existing foster carers and why they foster. They answer some of our most frequently asked questions – including the most important skills for foster carers to have.
Who Can Become a Foster Parent?
At Compass, we're always looking for passionate individuals to join our fostering community. If you're considering becoming a foster carer, there are a few things we ask you have in order to begin your application.
We ask that you:
Are over the age of 21 years old
Have a spare room
Have legal right to remain and work in the UK.
If you meet these key criteria, you'll likely be eligible to begin your journey of becoming a foster carer!
Start Your Journey with Compass
At Compass, we're proud to invest in our foster carers and children and young people. All our foster carers benefit from 24/7 support, high-quality training, and a generous weekly allowance that recognises and values their unique skillset.
We know how hard it can be to choose a fostering agency; with so much choice, it's difficult to know where to start. That's why we're committed to making the fostering application process as quick and easy as possible for new foster parents. From the moment you make contact with us, we'll support you every step of the way.
Frequently Asked Questions
If you've got questions – we've got the answers! You can also check out the rest of our fostering FAQ's here.
Fostering allowance pay varies depending on a range of factors, including the type of fostering you can offer. Our average rate is £370 per week, for each child living in your home.
This depends on your availability throughout the process. Generally, we aim to get people through our standard application process in about 4 months. Our new fast-track assessments streamlines this process, aiming for 16 weeks.
Generally speaking, no – foster children cannot share a bedroom. However, there is one potential exception; same sex siblings.
Many people believe that there is an age limit for foster parents. This isn't the case! There is no upper age limit to fostering. As long as you're fit, healthy and passionate about making a difference – you'd likely make a great foster carer!