Becoming a foster parent is a very rewarding experience, but it also comes with its fair share of challenges. One of the best ways to learn about the reality of fostering is from those who have experienced it. While we provide extensive community support for all our carers, there are also a number of great outside resources – including plenty of books about foster care.
From insightful stories written by experienced carers, to moving first-hand accounts of former looked-after children and informative books written for foster families, we've rounded up our favourite books about fostering.
Books by foster carers

Too Scared to Cry by Maggie Hartley
Maggie Hartley has worked as a foster carer in the UK for over twenty years and fostered more than 300 children. She specialises in caring for children who've suffered extreme trauma and explores her experiences through her series of Foster Care Stories. Too Scared to Cry includes three short stories, including Maggie's experience caring for a trio of siblings who enter the foster system so conditioned by past trauma that they dare not speak or cry.
Other Maggie Hartley titles to try: Young to be a Mum, Tiny Prisoners, The Little Ghost Girl

Terrified: The Heartbreaking True Story of a Girl Nobody Loved and the Woman Who Saved Her by Angela Hart
Angela Hart has been a foster carer in the UK for over two decades and has fostered more than fifty children. With training as a specialist carer for teenagers with complex needs, Hart's series of books chronicle her experience as a foster mum. Terrified tells the story of a little girl who came to Angela after years of emotional abuse, and Angela's struggle to help her find freedom from her past.
Other Angela Hart titles to try: The Girl with the Suitcase, The Girl with No Bedroom Door, The Girl Who Wanted to Belong

A Terrible Secret by Cathy Glass
Cathy Glass is a specialist foster carer who has been fostering children in the UK for twenty-five years. Her books chronicle her time looking after children with challenging behaviours. A Terrible Secret is the story of one such child: 14-year-old Tilly is unable to cope with her stepfather's abuse towards her mother and places herself into foster care. When she comes to Cathy, keeping Tilly safe from her increasingly controlling stepfather – but Cathy is shocked by the lengths that he will go to see Tilly.
Other Cathy Glass titles to try: Another Forgotten Child, The Girl in the Mirror, Cut
Books by former foster children

Fifty-One Moves by Ben Ashcroft
Fifty-One Moves is written by a former foster child himself, Ben Ashcroft. Ben entered the foster care system at 9 years old and moved fifty-one times over the course of his seven years in care. During his adolescence, he struggled with crime, drugs, and time spent in young offenders institutions. Now a motivational speaker, Ben's story is an inspirational account that offers great insight into the experience of a young person in foster care.

Thrown Away Child by Louise Allen
This memoir from a foster-child-turned-foster-carer explores the dark and light of foster care. A victim of an abusive foster home, Louise Allen determines to right the wrongs done to her when she becomes a foster carer herself and begins campaigning for better foster care services. The book's success inspired Allen to continue writing about foster care under her Thrown Away Children series.
Other Louise Allen titles to try: Abby's Story, Stella's Story, Eden's Story

The Brightness of Stars: Stories of Adults Who Came Through the British Care System by Lisa Cherry
A former foster child herself, social worker Lisa Cherry brings together first-hand stories of what happens to foster children after they leave care. Focused on adult voices, The Brightness of Stars offers valuable insights spanning five decades of lived experience in the foster care system.

Nobody's Child by Kate Adie
Inspired by her experience as an adopted child, journalist and BBC presenter Kate Adie shares the stories of adults who grew up as 'abandoned' children. The result is a moving collection of perspectives on what it means to be a child, and what it means to belong.
Books about foster care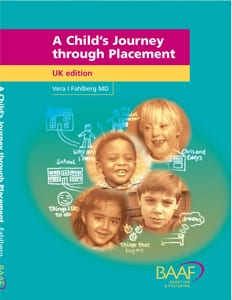 A Child's Journey Through Placement by Vera Fahlberg
This popular book offers information and advice for foster carers on how to help children most in need of support and stability. Vera Fahlberg, M.D., outlines the significance of attachment and separation, and takes readers through the developmental stages specific to adopted and foster children. Full of practical and compassionate advice, this is a great read for both current and prospective foster carers.

Why Can't My Child Behave?: Empathic Parenting Strategies that Work for Adoptive and Foster Families by Dr Amber Elliott
A popular resource amongst Compass Fostering carers, this book provides practical advice on caring for children with developmental trauma. It's written as an easy-to-use reference guide for adoptive and foster families, and focuses on common behavioural challenges. Since behaviour is a key form of communication for children with attachment issues, this book is a valuable asset for any foster carer.

Attachment in Common Sense and Doodles by Miriam Silver
Children in care often suffer from issues with attachment, such as attachment trauma/, chronic stress, or anxiety. This book explains attachment in simple terms and shows how carers can understand what a child's behaviour is saying about how they are coping or feeling. Simple doodles support the text in explaining complex ideas, making this book another popular resource with the Compass Fostering community.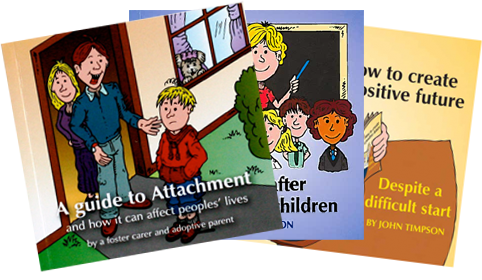 A Guide to Attachment, How to Create a Positive Future, and Looking After Looked After Children by Sir John Timpson CBE
Sir Timpson (of the Timpson key cutting/shoe company) and his wife were foster carers and advocates of foster care for many years. His three books are aimed at providing support and information for foster families and are available for free from any Timpson, Max Spielmann or Johnsons the Cleaners store.

We encourage our foster carers to continue learning and training as they develop their fostering skillsets. That means that if you become a foster carer with Compass Fostering, you'll be supported every step of the way.
Why not follow these up by watching documentaries on fostering!
With the right training, resources, and support, anyone can become a confident foster carer with Compass Fostering – get in touch to find out more.