We are delighted to be able to congratulate Karen Haddad on winning the 'Outstanding Contribution to Fostering Award' with FosterTalk.
Karen Haddad from Bolton has won the Outstanding Contribution to Fostering Award at the annual FosterTalk Foster Carer Awards in recognition of her dedication and commitment to the children and young people in her care.
Edward Timpson, Minister of State for Vulnerable Children and Families, opened the ceremony and Karen received her award from World Champion and Olympic medallist sprinter, Jamie Baulch, who was in care himself until he was adopted at six months old, and Debbie Douglas star of TOWIE, foster carer, and government ambassador for fostering.
Karen, who has fostered with Compass Fostering for seven years, together with her husband Malek, currently has two young people in her care, alongside her birth daughter Amani. She was nominated for the award by foster daughter, Maariyah. Commenting on why she feels Karen is so deserving of this award, Maariyah said:
"When I first came into care seven years ago, it was life changing. Karen treated us like we were her children and she so deserves this award. I read about last year's awards and decided then to nominate Karen for the amazing amount of effort she puts into helping us do whatever we want to do.
"Karen has the kindest nature I have ever seen in any person, she is so comfortable to be around and makes you relaxed and at ease. She talks to you and wants to know how your day went and what went wrong – she is always there when you need her and motivates you to do the best you can. That's what I call care."
Now in its third year, the FosterTalk awards highlight how foster carers are fundamental in turning young people's lives around and Karen is dedicated to doing just that.
"I was so surprised when I heard about this award and delighted! The house has been buzzing since we heard, but it's really for all of us as we're a fostering family. We've fostered for seven years and all of us have thrived as a result. We've all learned so much from one another and it has made our family full of life and laughter. We started fostering because my birth daughter, Amani, was an only one and I wanted her to grow up with other children and we've never looked back." Karen explained.
Karen continued: "For me, fostering is about opening up as many opportunities as possible to help the children have the best chance in life. This award is the icing on the cake for all of us."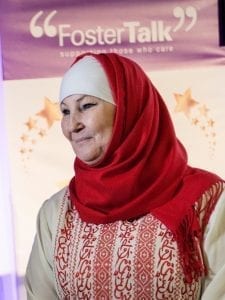 Bernie Gibson, managing director of Compass Fostering, said:
"Karen is such a worthy winner of this award and it is particularly special that she was nominated by Maariyah. She has invested so much in creating a happy and thriving family environment and we are delighted to see her efforts being recognised.
"Being a foster carer is so rich in rewards and I'm pleased to see the dedication of carers being acknowledged in such a positive way with these awards."
Edward Timpson, Minister for Vulnerable Children and Families, said:
"As someone who grew up with over 80 foster siblings, I have seen first-hand that a stable and nurturing home environment is essential to helping children achieve their potential. Foster carers make a huge impact on children's lives, and the awards highlight the incredible commitment and love that families like these bring to fostering some of our most vulnerable children across the country."
Melody Douglas, managing director of FosterTalk, comments: "Working with foster carers every day, we see the enormous commitment and positive difference they make to the children and young people in their care. We're delighted to be presenting these awards for the third consecutive year to shine a light on some of the inspiring achievements of foster carers across the UK and celebrate the work that all carers do to give the children in their care a safe, stable home and access to life-changing opportunities.
"We had hundreds of entries which made it very hard for our judges, but this award for Karen is well deserved. Not only has she made a difference to the children in her care, but she actively encourages others to think about fostering and we hope that our awards inspire other people to consider becoming foster carers too."
FosterTalk helps more than 30,000 foster carers nationwide, working alongside over 190 fostering services in the support of their foster carers. FosterTalk's membership package offers a range of support to foster carers including tax and benefits advice, legal advice as well as counselling. Visit
www.fostertalk.org
for more information.